As an enthusiastic expecting parent in Brooklyn, I was looking forward to trying to go diaper-free with my baby B. I like the simplicity and the lack of waste.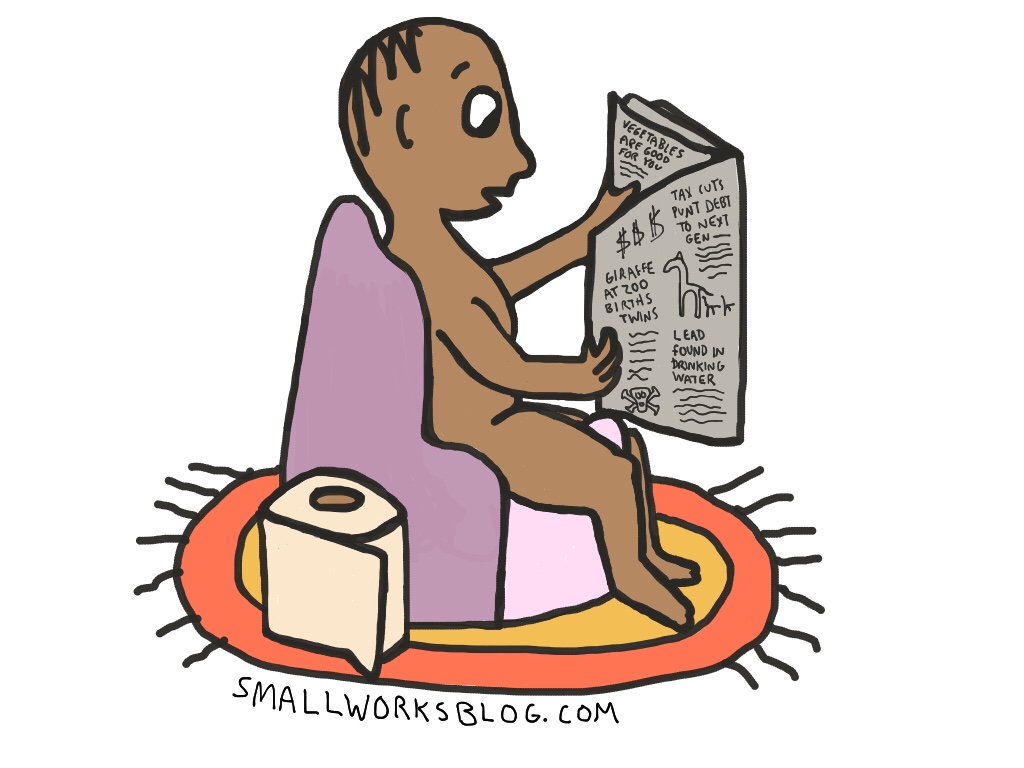 Before B was born we bought some disposable diapers 'just to get him through the first week or two.' But after B was born, we were completely overwhelmed with newborn care. B pooped and peed multiple times during his long nursing sessions and all throughout the night. A few times, I nursed while holding a bowl under his butt and I did catch a few poops, but I didn't have the energy to really figure it out. I was struggling too much, so we just kept using disposable diapers and gave up trying to go without.
Then when B was six months old, two magical things happened:
B could sit with a little support
B always pooped within ten minutes of waking
So as the crazy lady who held a bowl under her newborn's butt, I bought my six-month-old a little toilet. We started sitting him on there in the morning, and to our joy, he started pooping in there! Over the last four months, at least half of his poops have been in his toilet, and just that reduction in poopy diapers his made my life much easier. Days when I have the time to put him on the toilet after nursing and after naps, he often does most of his (day) peeing in there too. As of yet, he hasn't demonstrated any conscious control, but I still think that this has been a positive learning experience for him, particularly:
He is gaining positive associations with the potty – I hangout with him and read or sing, and I take him right off when he is unhappy
He is becoming aware of his bodily functions – diapers are so good these days, kids can lose awareness of their own peeing
He's learning the language for toileting and that pee and poop go in the potty – I always narrate what's happening: 'You are peeing,' 'You just peed in the potty,' 'Look, there's pee in the potty now,' 'Pee goes in the potty.'
I'm aware that B could also do some unhelpful learning, so I try to always remain calm and positive. Specifically,
B could learn that toileting is stressful – for us this means I have to stay positive when he does a poop in his diaper or is too upset after waking to sit on his toilet like I want him to, and I have to calmly usher him to the toilet when he makes a pooping face instead of following my natural instinct to rush frantically
B could also learn that the reason to go in the toilet is to make his mother happy – this is a tricky one, but in the long-term he'll be better able to care for himself if he learns to use the toilet for his own benefit and because it is the normal and expected behavior
Since it's gotten warm out, I've just started some new experimenting. I'm not sure where any of this will lead, but I'm curious to learn more about B's current patterns and to use fewer diapers. Here's what we're trying:
No pants when we're in the yard
Training undies after he does a big pee in his toilet
Naked naps on top of a towel
I will be sure to write on this topic again in a few months and let you all know how it's going!