The theory on Montessori floor beds and my experience birth to eleven months
One of the key components of a Montessori nursery is the floor bed. The idea is simple: in lieu of a crib, let your baby sleep on a mattress on the floor. Often parents use a bassinet with their newborn and then transition right to a floor bed. As long as the mattress is relatively thin and the floor around it is not too hard, a floor bed is safe for any age.
The theory behind this approach is to maximize exploration and independence.
Before babies are mobile, they explore with their eyes, so as they lay in bed, a clear view of the whole room nurtures their development.
After babies are mobile, they are able to get in and out of their bed independently, and thus, begin to meet some of their own needs – whether to sleep, or to play with a toy across the room.
Skeptics seem to share one main concern: won't my baby crawl out of the bed and not sleep? To which Montessorians reply: ummm… maybe! It can take a very child-centered attitude to use a floor bed – a belief that the parenting role is to learn to work with their child's natural instincts and a belief that fostering independence will help their child to thrive. Also floor beds are anti the norm, so that makes it harder to feel confident about using one.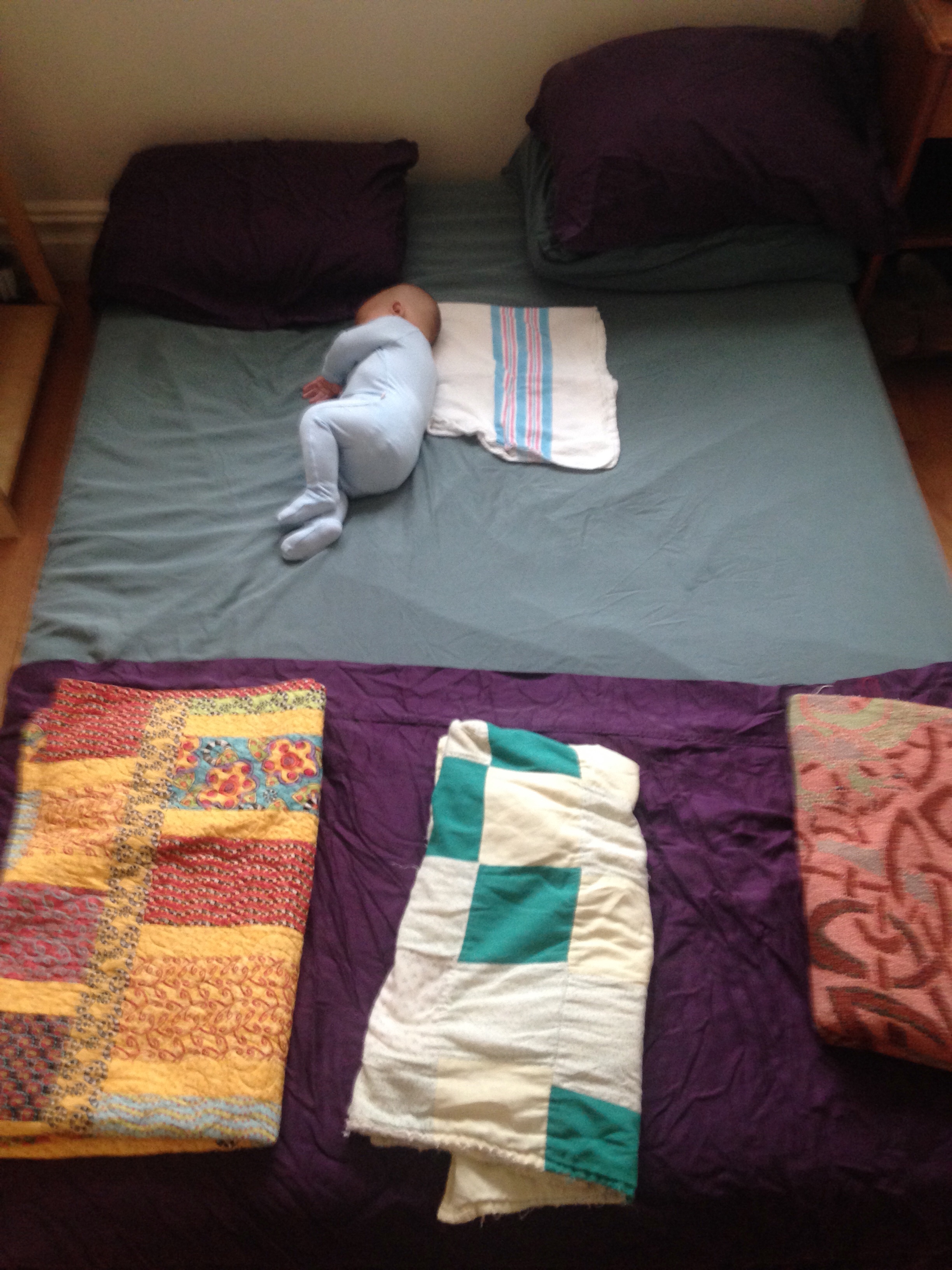 My experience with the floor bed so far has been nothing like what I expected. I had a grand vision of my little one happily crawling out of his bed and coming to find me waiting for him relaxed on the couch. Well… baby B will be eleven months soon, and has yet to exit or enter his bed independently. Also, 'his bed' quickly turned into 'our bed.' After trying many sleeping arrangements, we found that having B sleep on a full-size mattress (usually with me) on the floor is the best way for the whole family to get enough sleep. It allows us to easily cuddle or nurse him laying down and then slip away or sleep comfortably next to him.
So are we doing a Montessori floor bed? I'm not sure. We are sleeping on a bed on the floor, but… co-sleeping is surely not fostering independence as intended. That said, I have no worries that we will get there soon. When it comes to baby sleep, there is no room for judgement – if the family is happy and well-rested, then life is good!!